Paste Kettle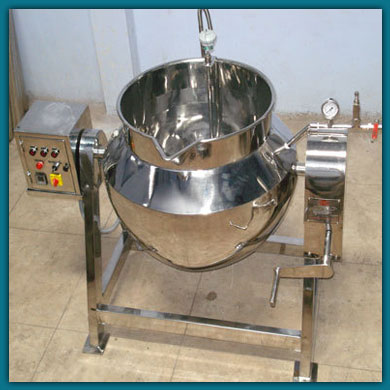 STARCH PASTE KETTLE
The Starch Paste Kettle we fabricate and develop is a specially designed unit for application in pharmaceutical processing units. It is used for preparation of binder materials which are highly used in medicine and food industries. We are considered as the best Paste Making Kettle Manufacturer and Starch Paste Mixing Kettle Exporter from Ahmedabad India.
Product Description
All contact part made of SS 316 as per GMP standard
Hemispherical design for proper mixing paste
Jacket provided with steam/thermic/fluid heating arrangement
Driven via motor and gear box assembly mounted on top
Tilting arrangement for kettle is provided for discharge for starch paste
Anchor type impeller design for proper mixing of paste
Safe earthing system
Optional Accessories
Flameproof construction
VFD to chase the RPM of stirrer
Documentation
Documentation like DQ, IQ, OQ and FAT provided with the machine.